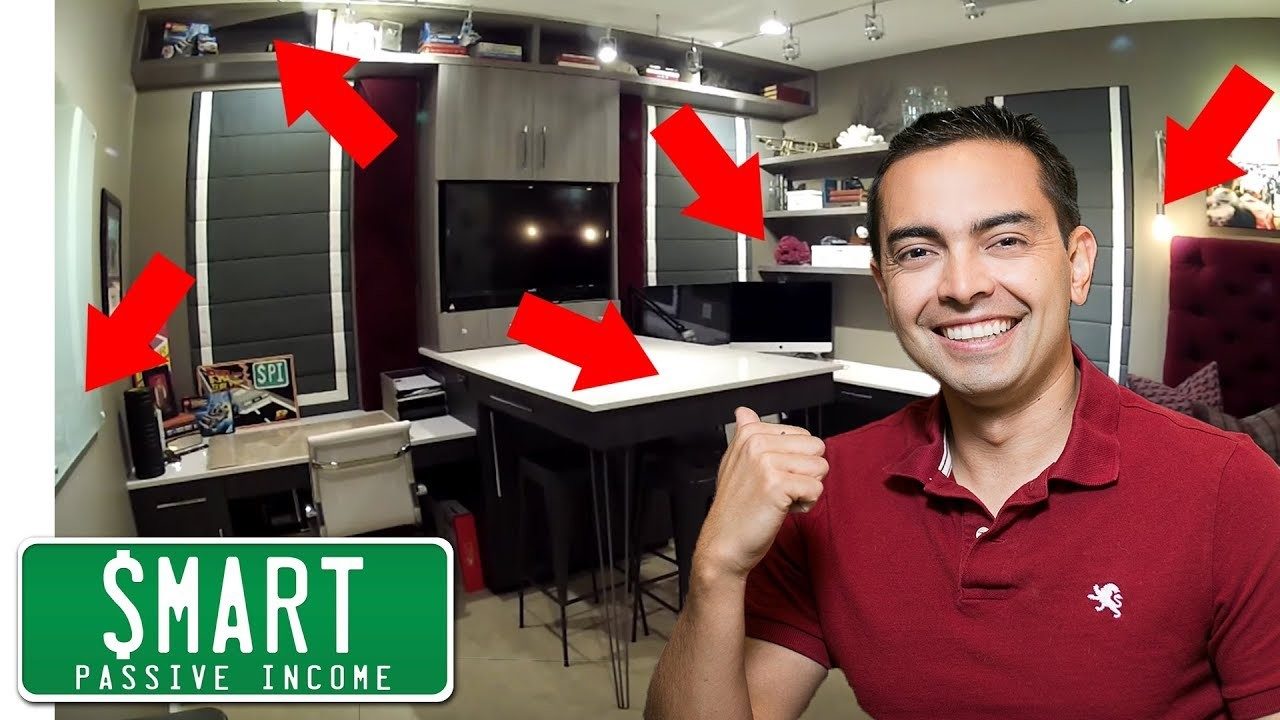 I've gotten so many requests to do a custom home office tour for you…so here it is!
Last year, my wife and I became homeowners for the very first time. It was a truly a huge moment for us because we'd been renting ever since we were married (5 years), putting money aside each month so we could someday live in our dream home. It's not a mansion or anything like that, but it was a new build, and definitely an upgrade from where we came from.
Our goals in selecting a new home were primarily related to the kids. A kid-friendly neighborhood with nearby parks and recreational areas, lots of other relatively young families, and a top-notch school district. Personally, it was a mandatory requirement to have a space that was to become my own office that I could build from scratch in a way that was best suited for the kind of work that I do.
It was definitely a blank slate which was fun to work with, but that was also very challenging too. The main direction came from what I did for work and how I wanted the space to enhance that, which you'll see in the video.
I definitely invested money into this space, comparable to that of buying a new car, however this is where my business is done within the home and I wanted to optimize my space and my work to become the most efficient person I could be. 'Invested' being the key word here.
Additionally, I wanted the home office to look and feel entirely different from the rest of the home, so when I come in here I can truly check-in both physically and mentally to do the work I need to do, and when I leave the office I can close the door and check-out as well. This was very important to me because I've had issues separating work and personal life in the past.
It's definitely a contemporary, modern space as you'll see. Since working in this office for a little less than a year now, I can definitely say it's working for me and has paid off for sure.
With that said, going back to 2009 when I filmed my first home office tour (link below) you definitely do not need to a huge fancy space and spend a lot of money in order to get work done and build a successful business. You just need to be able to have a space to take action and get what you need done, and at the very least be motivated when you get into that space and organized so you can focus less on cleaning up your area, and immediately get into the tasks you need to complete.
For those of you interested, here are some elevations of the space which, if you know how to read architectural drawings, directly translate to what you see here in this video:
West Facing Wall:
North Facing Wall:
Video Walkthrough of Space BEFORE it was built, which I sent to my designer for preliminary ideas:
It was quite a trip working on the "other end" of the architectural world this time around. For years it was my job as an architect and drafter to serve clients who would hire us for design work, and this time around it was me who was hiring the designer. I think it made my designer's life much easier because I could speak the language and easily read the elevations and plans for the space. Here's who I worked with:
CCH Design (I worked with Vanessa – she was awesome!):
And finally, other helpful links mentioned in this particular episode:
My Office Tour when I was in an apartment (October 16, 2009):
Mic Flags: (no affiliate program, but do mention that Pat sent you!)
Audimute Soundproofing:
Printer – HP LaserJet 1102w:
ScanSnap Scanner:
5-Minute Journal:
Muse Brain Sensing Headband:
Thanks again for watching SPI TV! Please subscribe to the channel for another episode coming at you next week. If you haven't noticed already, this month's SPI TV theme is all around productivity. Next week, you'll get my top 5 productivity tools and how I use them to maximize efficiency and increase overall output.
-~-~~-~~~-~~-~-
Building an email list? Watch my latest video: "How to Get More Email Subscribers (17 Lead Magnet Ideas)":
-~-~~-~~~-~~-~-